Blog
Happy Birthday Bruce!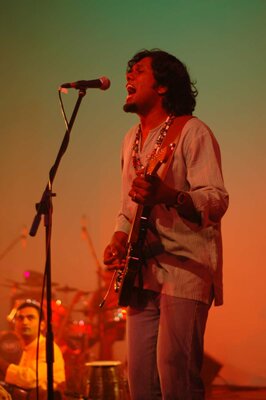 One of our all time favourite guitarists here on RadioVeRVe is one year older and wiser today! The poster boy for all things good about 'Rock and Roll', Bruce Lee (show me the) Mani of one of India's Biggest bands 'Thermal and a Quarter' celebrates his birthday and we at RadioVeRVe wish him and TAAQ all the very best!
So lets raise our glasses and toast one of India's finest, the 'Quarter' in Thermal and a Quarter! ... Bruce Lee Mani!
His description from the TAAQ site somehow seemed quite apt ..
Fatherhood pangs first gnawed at Bruce when he cradled his red Encore. His flock soon grew. Every day, he coochie-coos to each one, shines it, polishes it, powders its tender buns and changes its diapers. Pity his new set of wheels doesn't get any of that TLC.
Bruce has lent to the band (TAAQ) what you might like to call the Dave Matthews effect: since he's voxman, axeman and frontman rolled into one occasionally goateed six-feet-change frame, most people are forgiven for thinking we're called The Bruce Lee Mani Band.

Go Ahead … Look at me!
Brown eyes, black hair
Never mind the goatee!
Leave a Comment
Now Playing
Listen Now
ShoutBox