Blog
The Finalists for the IIMB 'B-School of Rock'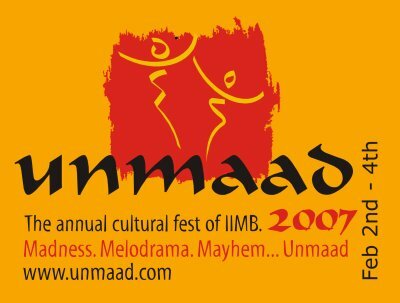 After much waiting, the finalists for the IIM Bangalore 'B-School of Rock '07' are (in no particular order or merit)

1. Kryptos
2. Infernal Wrath
3. Myndsnare
4. Extinct Reflections
5. Quasar
6. The Bottle Flower Seeds
7. Pushing Tin

The finals will be held at the IIM Bangalore grounds on the 3rd of February, 2007 from 9AM to 5 PM.
The very best of wishes from everyone at RadioVeRVe to these bands and may the best band on that day win!!
We will put out a radio channel with songs from these bands on RadioVeRVe so you guys can familiarise yourselves with the music you will hear on that day.
Make sure you turn up in hordes for the event. This is one you don't want to miss!
The finalists for the Am-Rock contest at IIM-B are

1. Phlegmingo, NITK – Surathkal
2. Sri Bhagawan Mahaveer Jain College – Bangalore
3. Spitfire – Bangalore
4. Battalion – Chennai
5. Tom, Dick and Harry, SVCE – Chennai
6. Fahrenheit, St Joseph's College of Commerce – Bangalore
7. Chilly Potato, MSRIT – Bangalore
8. SVCE-E, SVCE – Chennai
9. The Sixth Element
10. Phootage, IIM-Bangalore
11. Haven, St. Joseph's College of Commerce – Bangalore
12. Euphemism – PESIT – Bangalore
13. Hammerage
14. Heretic – Cochin
15. Slingshot – Chennai

This contest will be an all-nighter, starting at 10 pm on the 2nd of February, 2007. All bands are requested to report by 9pm itself.
You can contact Thejaswi Udupa, the Co-ordinator of the rock music fest at IIMB on 0 or thejaswi (dot) udupa (at) gmail (dot) com for more details. The winner of Am-Rock gets an entry into the B-School of Rock finals.
<< RadioVeRVe and the B-School of Rock!        Shoestring releases 'Thirty Something' >>


Leave a Comment
Now Playing
Listen Now
ShoutBox