Count on Me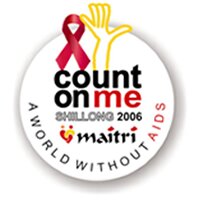 A worldwide campaign for "A World Without AIDS"
Maitri is a Shillong-based, NGO dedicated to HIV-AIDS awareness, advocacy, prevent and care and support of PLWHA. While Maitri's operational territory is not restricted to any particular country or region, its focus is on North Eastern India, a highly vulnerable area that is considered a Global AIDS hotspot. Maitri is registered under the Indian Societies Act, the Foreign Contribution Regulation Act (FCRA), and Section 12(AA) of the Income Tax Act, 1961.
Ever since it was set up, Maitri has partnered with a wide number of AIDS core sector stakeholders including UNAIDS and UNODC to achieve its broad objectives. Using innovative non-conventional models, such as sports and socio-cultural and celebrity-driven events for the promotion of AIDS awareness, Maitri has achieved considerable success in all it endeavours. One of its major successes was the attendance of the President of India, Dr APJ Abdul Kalam, as keynote speaker for a Conclave held in Shillong in September 2005 for an HIV-AIDS intervention among Uniformed Services in India.
"Count on Me" a song written and composed by Shillong musician David Ashkenazy and first performed by school going children for the President, is about every individual's responsibility towards stamping out the killer Virus. The song, which, is sought to be promoted as a worldwide anthem for AIDS awareness and prevention and a CD of the special track is to be released at Shillong on 1 December 2006.
Using the powerful messaging and imagery conveyed by these three words – Maitri embarked on a campaign titled "Count on Me!" that was kick-started at the recently concluded International AIDS Conference at Toronto. Maitri founders Lt Gen (Retd) Bhopinder and Winnie Singh in their respective presentations during the Conference which saw the attendance of over 25,000 delegates from around the World, encouraged the gathering to raise their hands and join in a "Count on Me!" chant as a symbolic way of combating the Virus. The response was overwhelming.
To carry this campaign forward, Maitri proposes to organize a week-long build up to World AIDS Day 2006 culminating in a grand finale "Count on Me!" show featuring a top International musical act.
The "Count on Me!" emblem – a raised hand along side an AIDS ribbon – created by Shillong-based designer and communicator Sanjay Sharma, who is also Maitri's Director, is to appear in many countries on lapel pins, T-shirts, baseball hats, key-chains, buttons, car stickers, book marks, plaques and other memorabilia as part of the campaign. Proceeds from the sale of these trendy collectibles would go towards funding some of Maitri's many initiatives one of them being "Project: Maitrigram" a stand alone village being set up for the care and support of "Children in Need."
For further details contact Sanjay ( maitri.ngo at gmail dot com)
Leave a Comment
Now Playing
Listen Now
ShoutBox