Blog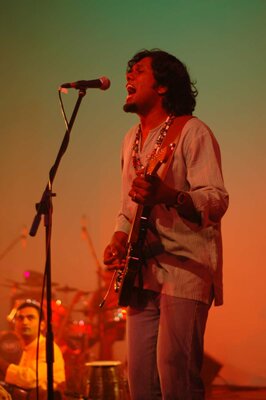 One of our all time favourite guitarists here on RadioVeRVe is one year older and wiser today! The poster boy for all things good about 'Rock and Roll', Bruce Lee (show me the) Mani of one of India's Biggest bands 'Thermal and a Quarter' celebrates his birthday and we at RadioVeRVe wish him and TAAQ all the very best!
So lets raise our glasses and toast one of India's finest, the 'Quarter' in Thermal and a Quarter! ... Bruce Lee Mani!
His description from the TAAQ site somehow seemed quite apt ..
Fatherhood pangs first gnawed at Bruce when he cradled his red Encore. His flock soon grew. Every day, he coochie-coos to each one, shines it, polishes it, powders its tender buns and changes its diapers. Pity his new set of wheels doesn't get any of that TLC.
Bruce has lent to the band (TAAQ) what you might like to call the Dave Matthews effect: since he's voxman, axeman and frontman rolled into one occasionally goateed six-feet-change frame, most people are forgiven for thinking we're called The Bruce Lee Mani Band.

Go Ahead … Look at me!
Brown eyes, black hair
Never mind the goatee!
Comment [2] | Permanent Link
NSIT (Netaji Subhas Institute Of Technology ( erstwhile DIT) ) is back with Avalanche'07, the annual rockfest of their cultural festival MOKSHA 2007. Offering one of the best sound and light systems as well as great hospitality, its considered to be one of the best college rock shows involving bands from all over India competing for a sturdy platform and prizes worth over 70k!!
Headlining the show this time are MOTHERJANE and THEM CLONES.
Any rock band from anywhere is invited to register. There are limited entries so if you want to take part … You need to hurry your registration form (format mentioned below) to any of the organisers (below) with your demos or just send them a link to your demos.
Registration format:
Band Name:
Number of Band Members:
Names of Band Members:
Place/ Location:
Accommodation Requirements (For outstation bands only) Yes or No):
Contact Number:
E-Mail Id:
Web-Page (If any):
Genre:
Past Experience(If any): 1. 2. 3.
Any other information you would like to share:
Either send an email or just click on the following link to register :
Things to remember!
Last Date for Registration : 15th Feb
Prelims : 21st feb , 10:00 pm onwards
(Entry restricted. Only Band Members. No guests allowed)
Finals : 22nd feb , 5:00 pm onwards
Prizes over 70k. To and Fro travel fare provided for outstation bands making it to the finals. In all cases, one way fare guaranteed for all outstation bands .
Organisers:
Siddharth Kumar:
Shobhan Ray:
Sumit Chaudhary:
email:
PS: Selection for the prelims is based solely on the discretion of the organisers and selected bands will be informed through their respective contact details.

After a year of working and promises and following up, Manoj Jacob of Shoestring has released his second album 'Thirty Something'. This album is available for FREE DOWNLOAD with Manoj writing about the stories that made each song on his blog . Its a wonderful read and the songs that I've downloaded so far have been quite wonderful!
So go right on … head there and check it out for yourselves … Shoestring's album has been released under the Creative Commons which we at RadioVeRVe completely endorse for Independent artists. More on that soon …
In Manoj's words …

I've been on the tail of this album for a year now. It's take me that amount of time to coax the songs out, put it through the studio and finally arrive at a result that I am very satisfied with. There are 6 songs in all. I had planned to have 8, but my move to Chennai curtailed that.
'Thirty Something' is lyrically a very different album from my first effort. I've consciously tried to write about issues that have touched me – war, racism, credit card debt… Topics I was provoked to write about, by my own experiences. The songs themselves will tell you more.
In time honoured fashion, I'd like to express my gratitude to a few people who helped me along the way.
Ricky Kej and Abhijit Shylanath of Raveolutions Studios, Bangalore. And Dominic D'Cruz and Robert D'Souza, guitarists of extraordinary calibre.
'Thirty Something' will be released on this blog as a free download. One song every week, starting tomorrow. Do come by, and if it's not too much of a bother, pass the word around.

So There you have it … pass the word around :)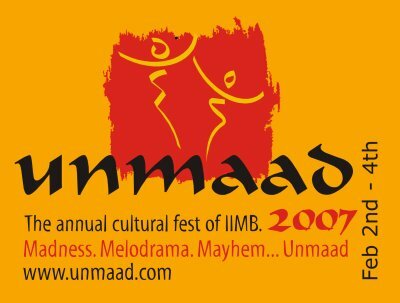 After much waiting, the finalists for the IIM Bangalore 'B-School of Rock '07' are (in no particular order or merit)

1. Kryptos
2. Infernal Wrath
3. Myndsnare
4. Extinct Reflections
5. Quasar
6. The Bottle Flower Seeds
7. Pushing Tin

The finals will be held at the IIM Bangalore grounds on the 3rd of February, 2007 from 9AM to 5 PM.
The very best of wishes from everyone at RadioVeRVe to these bands and may the best band on that day win!!
We will put out a radio channel with songs from these bands on RadioVeRVe so you guys can familiarise yourselves with the music you will hear on that day.
Make sure you turn up in hordes for the event. This is one you don't want to miss!
The finalists for the Am-Rock contest at IIM-B are

1. Phlegmingo, NITK – Surathkal
2. Sri Bhagawan Mahaveer Jain College – Bangalore
3. Spitfire – Bangalore
4. Battalion – Chennai
5. Tom, Dick and Harry, SVCE – Chennai
6. Fahrenheit, St Joseph's College of Commerce – Bangalore
7. Chilly Potato, MSRIT – Bangalore
8. SVCE-E, SVCE – Chennai
9. The Sixth Element
10. Phootage, IIM-Bangalore
11. Haven, St. Joseph's College of Commerce – Bangalore
12. Euphemism – PESIT – Bangalore
13. Hammerage
14. Heretic – Cochin
15. Slingshot – Chennai

This contest will be an all-nighter, starting at 10 pm on the 2nd of February, 2007. All bands are requested to report by 9pm itself.
You can contact Thejaswi Udupa, the Co-ordinator of the rock music fest at IIMB on 0 or thejaswi (dot) udupa (at) gmail (dot) com for more details. The winner of Am-Rock gets an entry into the B-School of Rock finals.
RadioVeRVe and the B-School of Rock!
RadioVeRVe is extremely excited and very proud to be part of the 'B School of Rock', IIM Bangalore's annual Rock music competition part of their annual culfest '"Unmaad '07"
The prelims for the B-School of Rock will happen completely on RadioVeRVe. Thats right! no more sending in a demo CD and hoping it reaches on time and then hoping it reaches the judges on time and then getting no feedback from people until the day you are told either that you made it or not!
Now you can upload your music onto RadioVeRVe and create an artist page for yourself and get your songs onto the B School of Rock stream on RadioVeRVe and have not only the judges but also anyone and everyone on the Internet listen to it and tell you what they think of your music!
The Procedure
1. Go to the RadioVeRVe Artists Portal and register your band there.
2. Add a write up about your band and any details about you that you want others to read. Everything you write here is displayed in the RadioVeRVe player when people listen to your music.
3. Upload the song you want to be evaluated and any other songs your band has composed in the artists portal.
Make sure you add BSROCK_ as a prefix to your song name so we identify it as a submission for the B School of Rock radio stream
For example: If your band name is 'Phenom' and your song name is 'Unbound', please name your song file BSROCK_Phenom_Unbound.mp3
Thats it!
Once we have enough songs in the stream, we will put out an exclusive channel for the B School of Rock which can be heard by anyone and everyone on the Internet!
We will soon have a rating system in place where people listening to your music can rate the song that they are listening to .. also you can always check your artist page to see if anyone has left comments for you!
AmRock @ B-School of Rock
AmRock is the Unmaad rock competition for college bands. To register your band for AmRock, please send an e-mail to with your band details.
Make sure all band members are from the same college.
12 bands will be allowed to play at AmRock on a first come first served basis and the winner will get to play along side the finalists at the B-School of Rock!
If any college bands have songs of their own recorded, please do create artist pages for yourselves on RadioVeRVe at this link https://radioverve.com/artists and upload your songs there!
Make sure you prefix your song file name with AMROCK_ while you upload your songs and they will be played in the B-School of Rock radio channel. More importantly it will help identify you as part of the AmRock contest.
So what are all of you waiting for! you know what to do now … lets get started!
PS: If any other colleges want to use RadioVeRVe for such a collaboration or any other interesting collaboration, please make sure you Contact us at the earliest!
Comment | Permanent Link
Happy new year!
Team RadioVeRVe wishes all of you a very very happy and fruitful new year! We have tons of things brewing in our camp and are just dying to let it all out to you but I guess all these things should take their due course!
For now stay tuned to RadioVeRVe but rest assured that we are on our way to unraveling a lot of mysteries and a lot of new things are coming up very very soon! Including a full explanation of why we have been a tad too quiet for sometime now :)
So have yourselves a good … nay … a GREAT year and sit back and let us take you for another trip around the sun ;)
Comment | Permanent Link
Merry Christmas!
Out of our big christmas goodie bag this time, we have pulled out some songs that a few friends of ours from the 'Cruz Project' had made sometime back … these are all very good friends of ours and infact, the project was produced by RadioVerve's very own Atul and Gaurav.
The songs here are not complete … let that alone, these songs are not even mixed … this is the raw recording as is … but we decided to put it up and motivate these guys to continue and finish this project!
Play Track – Christmas Special
If you like the sound of these songs and want to tell these chaps to get off their a**es and start completing it, leave a comment in the shoutbox or in the artist page and we will make sure they read it!
If you have anyone who would be interested in a complete project like this … get in touch with radioVeRVe and we shall definitely take this forward!
For now … Merry Christmas and hope you have a wonderful new year ahead :)
A lot more is happening at the radioVeRVe camp behind the scenes … so don't go anywhere … prepare to be amazed :)
Comment | Permanent Link
Leon Ireland passes away
Today is a sad day for the rock music community in India. One of its best, Leon Ireland, vocalist for one of India's best rock bands, Moksha passed away this morning from a sudden heart attack. He is survived by his wife and mother.
Our sincere condolences are with his family and the band and all the millions of friends and fans that he garnered over his career. Every single person who knows Leon will remember him as a very humble, exceptionally talented and wonderful friend.
From being a charismatic frontman and the defining sound of Moksha to being such an encouraging and wonderful musician, Leon was looked up to with much awe and admiration and respect for his talent and simplicity. He meant different things to different people and I am sure each of us have stories to tell of how he came across and loved him.
Leon not being around is something that all of us will have a tough time getting used to. We at RadioVeRVe hope that his family and friends will find the strength and courage to come to terms with this loss.
Eternal rest grant unto him and let perpetual light shine upon him. May his soul rest in peace.
Comment [8] | Permanent Link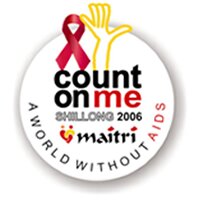 A worldwide campaign for "A World Without AIDS"
Maitri is a Shillong-based, NGO dedicated to HIV-AIDS awareness, advocacy, prevent and care and support of PLWHA. While Maitri's operational territory is not restricted to any particular country or region, its focus is on North Eastern India, a highly vulnerable area that is considered a Global AIDS hotspot. Maitri is registered under the Indian Societies Act, the Foreign Contribution Regulation Act (FCRA), and Section 12(AA) of the Income Tax Act, 1961.
Ever since it was set up, Maitri has partnered with a wide number of AIDS core sector stakeholders including UNAIDS and UNODC to achieve its broad objectives. Using innovative non-conventional models, such as sports and socio-cultural and celebrity-driven events for the promotion of AIDS awareness, Maitri has achieved considerable success in all it endeavours. One of its major successes was the attendance of the President of India, Dr APJ Abdul Kalam, as keynote speaker for a Conclave held in Shillong in September 2005 for an HIV-AIDS intervention among Uniformed Services in India.
"Count on Me" a song written and composed by Shillong musician David Ashkenazy and first performed by school going children for the President, is about every individual's responsibility towards stamping out the killer Virus. The song, which, is sought to be promoted as a worldwide anthem for AIDS awareness and prevention and a CD of the special track is to be released at Shillong on 1 December 2006.
Using the powerful messaging and imagery conveyed by these three words – Maitri embarked on a campaign titled "Count on Me!" that was kick-started at the recently concluded International AIDS Conference at Toronto. Maitri founders Lt Gen (Retd) Bhopinder and Winnie Singh in their respective presentations during the Conference which saw the attendance of over 25,000 delegates from around the World, encouraged the gathering to raise their hands and join in a "Count on Me!" chant as a symbolic way of combating the Virus. The response was overwhelming.
To carry this campaign forward, Maitri proposes to organize a week-long build up to World AIDS Day 2006 culminating in a grand finale "Count on Me!" show featuring a top International musical act.
The "Count on Me!" emblem – a raised hand along side an AIDS ribbon – created by Shillong-based designer and communicator Sanjay Sharma, who is also Maitri's Director, is to appear in many countries on lapel pins, T-shirts, baseball hats, key-chains, buttons, car stickers, book marks, plaques and other memorabilia as part of the campaign. Proceeds from the sale of these trendy collectibles would go towards funding some of Maitri's many initiatives one of them being "Project: Maitrigram" a stand alone village being set up for the care and support of "Children in Need."
For further details contact Sanjay ( maitri.ngo at gmail dot com)
Comment [15] | Permanent Link
Livewire
IIT Bombay and Mood Indigo are proud to announce the return of the biggest college competition in India. Yes Ladies and Gentlemen, LIVEWIRE is up and running.This year they have over a lakh worth in prizes to offer including a recording deal. Above all the finalists will get to start and compete against each other on the headlining night in front of 15,000 mad rock fans.
The elims are on the 26th and 27th of December and the headlining night will be on the 28th of December.
Visit www.moodi.org/livewire and register now. Do not foget to read the rules – http://www.moodi.org/livewire/rules.php
Mail them at or call them at (Shreyas) / (Vivek).
The registrations close on the 12th November. So Hurry up… get Loud. get Wild and get rocked. Its Bigger, Better, Louder this time.
Comment | Permanent Link
Now Playing
Listen Now
ShoutBox