Indian Ocean
Band Lineup:
| | | | | | | | | | |
| --- | --- | --- | --- | --- | --- | --- | --- | --- | --- |
| | Susmit Sen | | | Rahul Ram | | | Asheem Chakravarty | | Amit Kilam |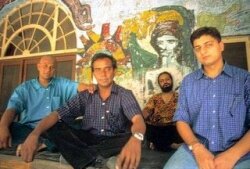 Back in the mists of time, actually 1984, Susmit met Asheem and their somewhat focused jamming sessions resulted in a few concerts. Asheem loved the sound of this new style/approach that Susmit had evolved. Legend has it that Susmit learnt the nuances of rhythm from Asheem – not your basic 4/4 beat, but the mysteries of chhand and jhonk and taal.
Susmit on guitar and Asheem on tabla and drums – no vocals anywhere in sight. In 1990 Indian Ocean was formed – Susmit & Asheem with a succession of bass players… a woman keyboard player briefly, and reformed, and went through many transformations…
In 1990, with Shaleen Sharma on drums, they recorded their first demo – an incredible 45 minutes and 7 songs in 1 day.
In 1991, Rahul, a schoolmate of Susmit's joined the band on bass. After a lot of persuasion, and on the strength of the demo tape, HMV agreed to record Indian Ocean's first album in Calcutta. It took another year for it to be released – hence more frustration. In fact in the first 5 years of the band's existence they played precisely 4 concerts. An inauspicious start, perhaps, but through sheer dogged persistence and hard work the album went on to sell over 40,000 copies – at that time, the highest selling record by any Indian band ever.
Shaleen, the drummer, left the band in March 94. In his place came Amit, just out of his teens and still doing college exams! And the current line-up came into being…
They practised and practised: the sound got crisper, vocals were added, Susmit & Asheem left their jobs, had kids. Music became their sole source of income – when not playing concerts, they odd-jobbed on music for serials, ads and documentaries.
Then, one fateful New Year's day, they played at Mandi House in Delhi. Having waited for 7 hours to go on stage. It was a fantastic performance – the crowd loved it – and the band realised that, completely by chance, their next album had happened. A recording of the show was released a couple of months later by a company called Independent Music which was formed only to release the album – 'Desert Rain' – the press was suddenly interested in this "new" band, and TV and radio interviews started happening. Suddenly everyone was talking about Indian Ocean. Susmit, Amit and Rahul got the Honour of playing a concert with the Legendary Violin player Pt. L.Subramanyam while Asheem played in a concert with the famous folk singer Pete Seeger .The whole band also had the privilege of jamming with renowned Japanese trumpeter Terumasa Hino in Delhi, and played with some great Japanese jazz musicians during their Japanese tour in 2002. Rahul and Amit consider themselves blessed to have performed on stage with renowned percussionists Vikoo Vinayakram and his son Selva Ganesh at Almora in 2003.
The band went on the road – playing gigs in Gujarat, Rajasthan, Uttar Pradesh, West Bengal, Madhya Pradesh, Karnataka, Haryana, Maharashtra. A few months later, Indian Ocean were invited to play at the Millennium celebrations at Khajuraho. The Hon. President of India, Shri. K. R. Narayanan was one of the first people to hear the special composition, which is one of the high points of their latest album, Kandisa. Recorded in one of the most high-tech, professional studios of Bombay, it was a far cry from their first experience in the less than salubrious environs of HMV's Dum Dum studio in Calcutta with its sozzled sound recordist and crummy mikes.
The album was released in March 2000 and went on to become one of the best-loved albums ever produced in India. Kandisa acquired cult status and propelled Indian Ocean into the status of India's most original and creative band. The band left Indian shores for the first time ever in August 2001…played their first concert abroad in London, and then went on to the Edinburgh Fringe Festival, where they played 18 concerts in 14 days, and were nominated the Pick of the Fringe. They returned to the Fringe in 2002 and 2003. In 2002, the band played 37 concerts abroad across four continents: New Zealand, USA, UK, Japan, Australia and Indonesia, and the next year they toured the UK twice, returned to the Australia, went to Germany and then on to Singapore. In September, they go to the beautiful island of Reunion, deep in the Indian Ocean! In addition, they continued to play all over India, not just the bigger metros but smaller cities such as Lucknow, Baroda, Jamshedpur, Chandigarh etc.
Jhini, the fourth album, was recorded at Kosmic Studios in Varadeipalyam, AP, in the midst of fields and hills, a hundred Km north of Chennai. The album was released in May 2003, and the band had their first video made, were MTV Artists of the Month. They then went to compose music for their first major full-length feature film in early 2004: Black Friday is based on the Mumbai bomb blasts of 1993, and is all set for release in September 2004.
For further details visit their website
Leave a Comment
Now Playing
Listen Now
ShoutBox